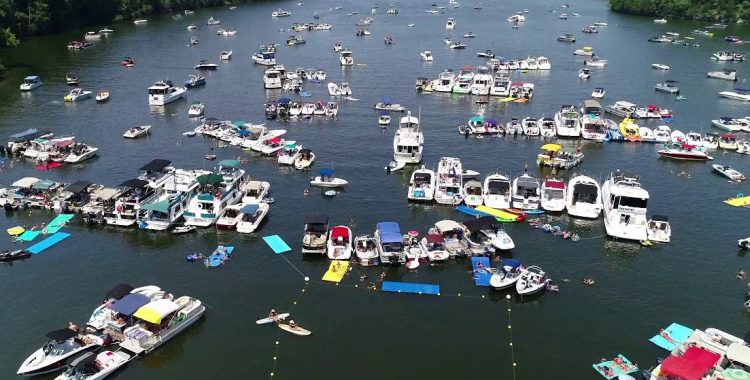 Tennessee Boating Laws 2021
Warmer temps mark the arrival of boating season in East Tennessee, and with the influx of first time boaters due to the COVID-19 pandemic, it's more important than ever that boaters take the necessary safety precautions to avoid an accident. Tennessee went from an eight-year low for boating deaths in 2019 to a 37-year high of boating-related deaths in 2020. Last year saw 32 deaths, Tennessee Wildlife Resources Agency says. So far this year, there have been eight deaths.
TWRA said its seen a boom in the use of kayaks, paddleboards and other watercrafts during the past year as well. These recreational paddlers make navigating the rivers and waterways across east Tennessee even more challenging.  Marcos Garza, an attorney at the Garza Law Firm in Knoxville, says that in addition to the obvious safety precautions like wearing a life jacket and never boating under the influence of drugs or alcohol, there are new laws and regulations every boater should be aware of.
"One recent change to boating laws is similar to the 'Move Over' law motorists are required to follow on roadways. The new law requires boaters to slow down to no wake speed within 100 feet of a law enforcement watercraft with flashing blue lights. Another recent change that has created a lot of questions is that Tennessee residents born after Jan. 1,1989, are now required to pass a boater education exam given by the TWRA to rent and operate any motorized vessel with more than 8.5 horsepower. A lot of people feel that this law somehow doesn't affect them, but it's pretty clear that if you're born in 1989 or sooner, you absolutely have to get a boaters license before you can operate a boat or jet ski."
Also new is the requirement to voluntarily communicate any boatings accidents resulting in damages totaling $2,000 or more to the TWRA within 10 days. According to the tn.gov website:
Vessel operators involved in an accident must notify TWRA immediately.
Any boating accident involving death, or injury requiring medical treatment beyond first aid, or the disappearance of a person should be reported as soon as possible, and must be reported within 48 hours.
All accidents involving property damage in excess of $2,000 (to one vessel or a combination of both vessels) must be reported within 10 days.
The operator of every vessel involved in a reportable boating accident is required to file an accident form with the TWRA. Failure to report a boating accident is a criminal offense and may result in prosecution by the TWRA.
Giving assistance is required. Whenever a boat is involved in an accident, it is the duty of the operator to give necessary assistance, as long as it will not personally endanger the operator, the passengers, or vessel.
Incidents Involving Serious Injury or Death: Vessel operators involved in incidents where persons are seriously injured or killed may be charged with a felony resulting in a fine of $10,000 and 15 years imprisonment.
Last, as with operating a vehicle, operating a boat with a blood alcohol level of .08 or more is illegal. Along with arrest, boaters could face fines, impoundment and loss of boating privileges. However, the operator of vessel is allowed to have an open container.  Specifically, the Tennessee Boating Safety Act states the following with respect to alcohol and boating in East Tennessee:
It is unlawful to operate any sail or powered vessel while under the influence of intoxicants or drugs. Here are some important facts to consider.
Implied Consent All persons operating a sail or powered vessel have given their implied consent to chemical tests to determine the alcohol or drug content of their blood. Failure to consent to testing is a separate offense and may result in suspension of vessel operating privileges for six months.
Presumption of Guilt A vessel operator whose BAC tests show .08% or greater by weight, of alcohol shall constitute a violation of this statute and is presumed under the influence and his or her ability to operate a vessel is impaired.
Blood-Alcohol Test Required Blood-alcohol content may be taken from all operators involved in an accident where death or serious injury occurred.
Penalties Conviction for operating under the influence will result in fines of up to $2,500 on the first offense, $2,500 on the second offense and $5,000 for the third offense. A jail sentence of 11 months and 29 days may also be imposed for any conviction and operating privileges may be suspended from one to ten years. Additional federal penalties may also be charged.
If you or someone you know has been charged with a boating DUI, call the criminal defense attorneys at Garza Law and find out what your options are. There is no obligation to use one of our attorneys and we will gladly offer you sound advice and treat you as if you were a family member. Call 865-540-8300 or fill out the form on our contact page.
Top lakes and rivers for recreational boating in East Tennessee: Norris Lake, Fort Loudon Lake, Douglas Lake, Watts Bar Lake, Cherokee Reservoir, Melton Hill Lake, the Holston River, and the French Broad River.