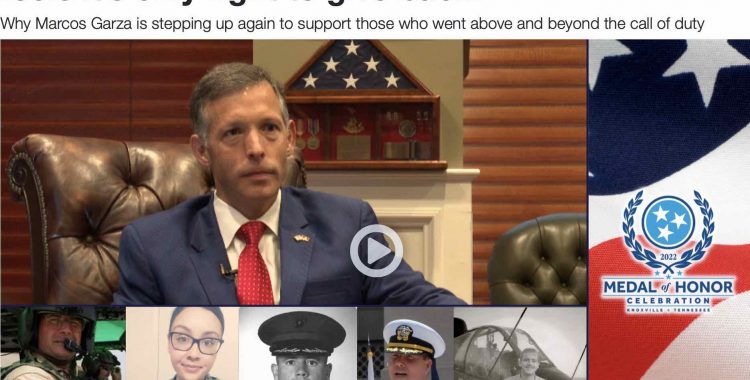 Marcos Garza with the Garza Law Firm in Knoxville, TN was recently featured on a newscast by WVLT. Mr. Garza, a former Judge Advocate and Captain in the Marine Corps, has made it a priority to serve those who have served their country. Garza is serving as a sponsor for the 2022 Medal of Honor Celebration this September in Knoxville. He said it was a no-brainer to get involved again.
In addition to working with veterans and donating to their causes, he also made it a point to hire veterans. He said he does not exclusively hire those who have served, but when it comes to veterans, he knows what they are made of. About his previous experience as a sponsor for the Medal of Honor Celebration, Mr Garza stated:
"We went through and met all the Medal of Honor recipients," said Garza, who was one of the sponsors for the 2014 convention. "I think the thing that is just so humbling and awe inspiring, and I'm gonna say humbling again, is this sort of humility that you witness among these folks who have done just tremendous, amazing heroic things. They far surpass all of our regular observations or experiences and the humility that they display, it just makes you want to be more."
To watch the televised interview and read the entire article, please visit www.wvlt.tv.
Marcos Garza began the Garza Law Firm in Knoxville, TN after graduation from the University of Tennessee School of Law. His practice focuses on criminal defense and DUI defense, car wrecks, personal injury, and other civil matters, and social security disability. For questions, please call 865-540-8300.